Ramadan n'est plus depuis une dizaine de jours. Pourtant, après un mois de jeûne, de prières, d'adoration et de lecture du Coran plus soutenue que le reste de l'année, il n'est pas rare d'avoir toujours l'impression de n'avoir pas quitté le mois béni, les jours, voire les semaines qui le suivent.
Qui n'a pas ressenti, banalité s'il en est, ces petites frayeurs et autres pics d'adrénaline après avoir bu un verre d'eau et cru une fraction de seconde avoir « cassé son jeûne », parfois longtemps après ramadan ? Puis avoir rapidement repris ses esprits, et, soulagé, apprécié le précieux liquide, non sans une pointe de nostalgie. Ramadan est définitivement un mois très spécial.
Prolongeons-le quelque peu aujourd'hui en revenant sur les célébrations de l'Aïd al-fitr à travers le monde.
Cette année encore, dans des pays tant musulmans que non musulmans, municipalités et acteurs privés ont choisi d'illuminer un monument, le plus souvent emblématique, pour cette fête qui marque la fin du mois de jeûne et annonce chawwal, dixième mois du calendrier musulman. Tour d'horizon.
Commençons par La Mecque, en Arabie saoudite, et la Tour de l'horloge, élément du complexe résidentiel des Abraj Al-Bait Towers.
The clock tower in Makkah 🕋 lights up on the occasion of Eid Al Fitr. pic.twitter.com/HdMRYL3xkn

— Life in Saudi Arabia (@LifeSaudiArabia) April 20, 2023
A Kuala Lumpur (Malaisie), l'Aïd al-fitr a illuminé le Kuala Lumpur City Centre ainsi que le pont Saloma Bridge.
What a beautiful way to greet Eid Mubarak🙌🥰

Saloma Bridge and KLCC lit up in green!

📸 @Aereon_Wong #MalaysiaTrulyAsia #CutiCutiMalaysia #EidMubarak pic.twitter.com/MZFs3I2ZGn

— Malaysia Truly Asia (@TourismMalaysia) April 22, 2023
A Edmonton (Canada), c'est le High Level Bridge, célèbre pont qui s'est illuminé.
The #HighLevelBridge in #Edmonton #Alberta #Canada will be lit in green for the End of Ramadan. #Ramadan #Yeg #LightTheBridge❇️ pic.twitter.com/6U2qtqFvQW

— Urban Smiles (@UrbanSmilesYEG) April 20, 2023
Idem pour la Tour nationale du Canada.
Tonight the #CNTower will be lit green and white for Eid al-Fitr / Ce soir la #TourCN sera illuminée en vert et blanc pour Aïd el-Fitr pic.twitter.com/24wpSE8zTV

— CN Tower / Tour CN (@TourCNTower) April 20, 2023
Toujours en Amérique du Nord, mais cette fois aux Etats-Unis, cette année encore à New York, l'Empire State Building fut au rendez-vous pour l'Aïd al-fitr.
Glowing in green tonight in Honor of Eid al-Fitr

IG/nycforgo pic.twitter.com/XECH7W9MJ3

— Empire State Building (@EmpireStateBldg) April 20, 2023
Sur la côte Ouest, la ville d'Irvine (Californie) a illuminé le bâtiment du Irvine Civic Center.
You may have noticed the Irvine Civic Center has taken on a different hue at night. The building was lit up in green earlier this week and is being illuminated in purple and turquoise through tomorrow in honor of Ramadan and Eid al-Fitr.☪️ Eid Mubarak!#WeAreIrvine pic.twitter.com/IMxDwHkiQ5

— City of Irvine (@City_of_Irvine) April 21, 2023
Toujours aux Etats-Unis, les mairies de Dublin et de San Ramon ont elles aussi été illuminées.
In honor of Eid, Dublin, and San Ramon City Halls are lit up green this evening. Learn more: https://t.co/KWz0jBPUoS pic.twitter.com/zONrsrgc3H

— MCC East Bay (@mcceastbay) April 21, 2023
Outre-Atlantique, à Leeds comme à Londres, l'Aïd al-fitr a là encore été publiquement célébrée.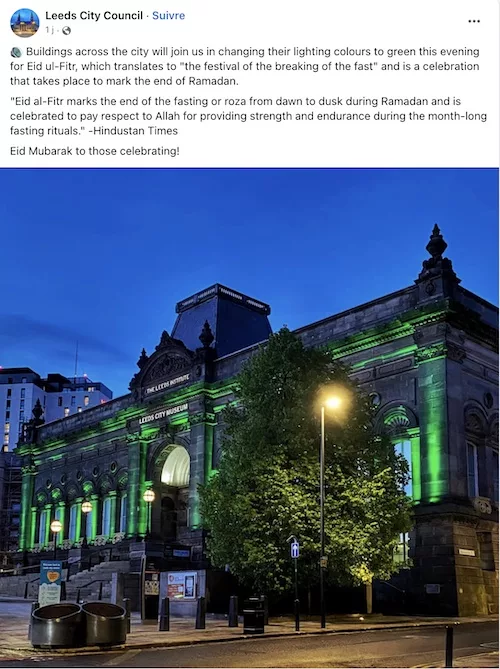 The https://t.co/fk58OiXirC London Eye will this evening be illuminated with a special crescent moonlight display to mark the festival of #EidUlFitr, which follows the month of Ramadan when Muslims around the world fast during daylight hours. #Eid2023 #EyeLoveLondon pic.twitter.com/2iIiTYUKop

— The London Eye (@TheLondonEye) April 21, 2023
Toujours à Londres, mais en plein jour, des lampadaires ont été ornés de drapeaux réalisés par des habitants, sous l'égide de la Rosetta Arts. L'organisation mandatée pour trois ans pour célébrer l'Aïd al-fitr, l'Aïd al-adha, mais aussi la nuit du Destin.
Eid Mubarak from all of us at Rosetta Arts! ☪️

We are delighted to have coproduced the Green St Eid-ul-fitr decor with @EEALondon in @NewhamLondon

Our Newham commissioned artists @sabbakhan_ @Aishanaim3 led the resident co-creation workshops to produce these exquisite designs pic.twitter.com/OAldgahTgp

— Rosetta Arts (@Rosettaarts) April 20, 2023
Ces illuminations qui célèbrent les fêtes musulmanes sont en passe devenir une tradition bien ancrée dans nombre de pays non musulmans.
Citons encore l'illumination, par le passé, de la Auckland Sky Tower en Nouvelle-Zélande.
From Sunday 24th May for two nights our Sky Tower will be lit green and white in honour of Eid al Fitr, "The Festival of Breaking the Fast" – a religious holiday celebrated by Muslims around the world to mark the end of Ramadan 🤲🌙 pic.twitter.com/fWGQ4Y0XJu

— SkyCity (@SkyCityGroup) May 21, 2020
Celle du Guildhall, un bâtiment de la Cité de Londres, au Royaume-Uni.
Eid Mubarak! As the month of Ramadan is over and Eid ul Fitr is with us we'd like to thank you for celebrating safely this year. Tonight we're lighting up the Guildhall in green to celebrate the occasion. pic.twitter.com/szU5beOpjY

— Swansea Council (@SwanseaCouncil) May 1, 2022
Celle de la guérite du château de l'université de Durham, ville du nord-est de l'Angleterre.
Eid Mubarak to every Muslim member of our community! The Castle was lit up yesterday evening at sunset to mark the end of the Holy Month of Ramadan, when the celebrations of Eid began.

📸 Castle gatehouse lit green thanks to Castle tech team pic.twitter.com/KhUP7aVVN3

— University College (@durhamcastle) May 13, 2021
Et enfin l'illumination à Hyndburn, dans le Lancashire (Angleterre), de la Mercer Memorial Clock Tower pour marquer l'Aïd al-adha et le hajj, pèlerinage à La Mecque.
The Mercer Memorial Clock Tower will be lit up in green lights tonight to celebrate Eid-ul-Adha and mark the end of Hajj, the annual pilgrimage to Makkah. 💚 pic.twitter.com/xJULaAUWlj

— Hyndburn Borough Council (@HyndburnCouncil) July 19, 2021
La tour Eiffel un jour en vert ? Il est peu probable que cela advienne de sitôt. Même si l'emblème de la France par excellence s'illumine parfois à l'occasion de divers événements (Nouvel An chinois en 2004, Coupe du monde de rugby en 2007, Fashion Week en 2015 ou encore en hommage des victimes des attentats de Nice en 2016), la crispation très française autour de l'islam et des musulmans interdit de fait toute célébration de la moindre fête islamique.