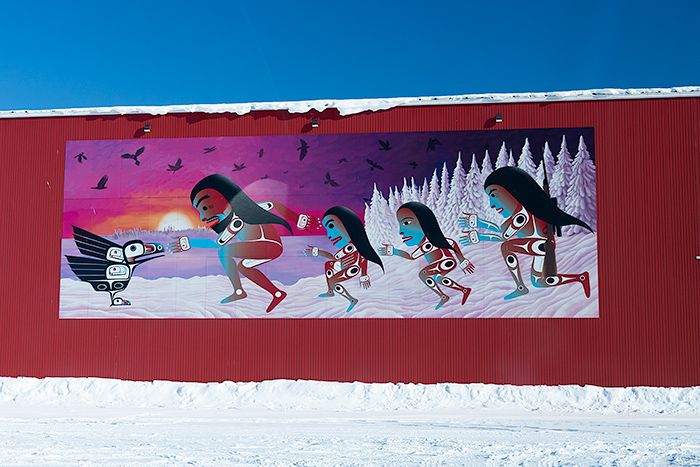 Seeing the aurora light up the night sky is certainly the biggest draw when traveling to this region of northern Canada. But plentiful winter activities in Yellowknife can easily fill your days.
My daughter and I traveled here in mid-March—when aurora was active, the Ice Road frozen, and the Snow King festival was underway. It was a perfect time to visit!
Winter Activities in Yellowknife
Most of these winter activities in Yellowknife are available from late November to early April. Check tour operators for specific dates.
Ice Road Tour
This 90 minute tour ($60 CAN) is a great introduction to all the winter activities in Yellowknife, since most everything happens on the Great Slave Lake. We booked with Arctic Tours. Our guide picked us up at our vrbo and we headed straightaway for the Ice Road. We happened to be the only guests on the tour.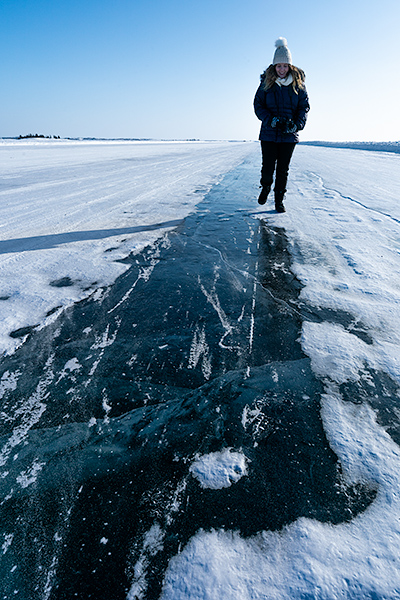 The Ice Road is a wide passageway for cars and trucks on the frozen Great Slave Lake between the north end of town (where the snow castle is) and the Dettah Dene community across the bay. There are speed limit signs and trees planted in the ice as landmarks for turn offs to private ice roads leading to ice fishing huts or colorful houseboats where residents surprisingly live year round to avoid paying taxes.
While on this tour we saw people cross country skiing, snowshoeing, kick sledding with dogs, snowmobiling, visiting the snow castle, and ice fishing. And even policemen on their snowmobiles. Our guide told us about the lake, took us inside a couple fishing huts and drove us through Dettah village across the bay.
No pictures were allowed in Dettah, but we saw their homes, and a few resident fox and ptarmigan too.
Traveling across the ice road wasn't scary knowing that officials keep a close eye on the quality of ice and depth measurements. By mid-April the lake begins to thaw. Residents then have longer drives to reach their houseboats or homes in the Dettah community (which takes 45 minutes by road verses 15 across ice).
Dog sledding
This is likely the most popular of the winter activities in Yellowknife. There are several places to dog sled such as Aurora Village, Endoah Kennel & Beck's Kennels. Rides last around 20 minutes. Jordan convinced me to go dog sledding twice.
Riding in a sled
The first experience was at Aurora Village. Our combination tour ($159 CAN/$118 US) also included snowshoeing, and a giant slide. A bus picked us up at Quality Inn, and drove 45 minutes down Ingraham Trail to reach their property. Our guide gave us a quick tour. There was a large wooden lodge with heated bathrooms, snack bar and lots of seating plus 21 teepees around a frozen lake (used for aurora viewing on night tours).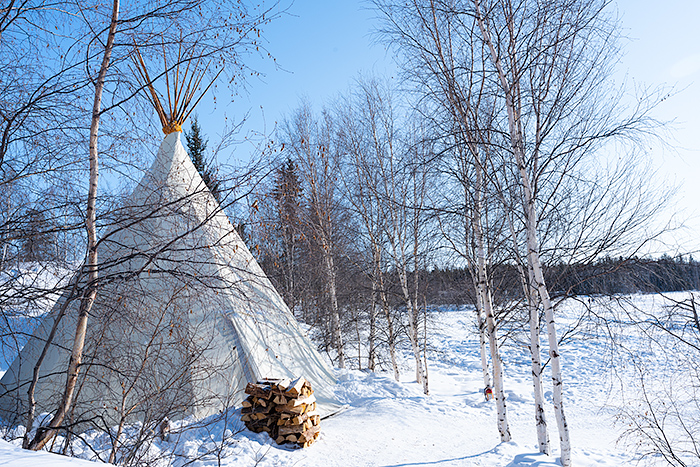 Our guide divided us into groups of 4 people per dog sled, and introduced us to the dogs. We could pet the dogs waiting on the sidelines and peek at the young pups being nurtured by their mama in a kennel nearby.
There were only 16 people in our entire group, so didn't have to wait long. Soon we were on our way!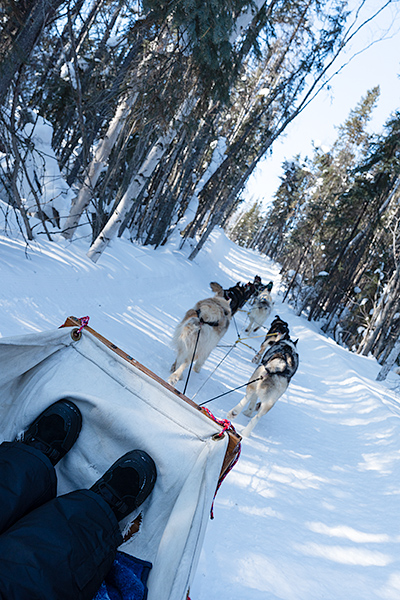 Sitting in a traditonal sled, we were pulled through a snowy forest by a team of 12 huskies. They listened and responded to the voice of our musher who stood behind us.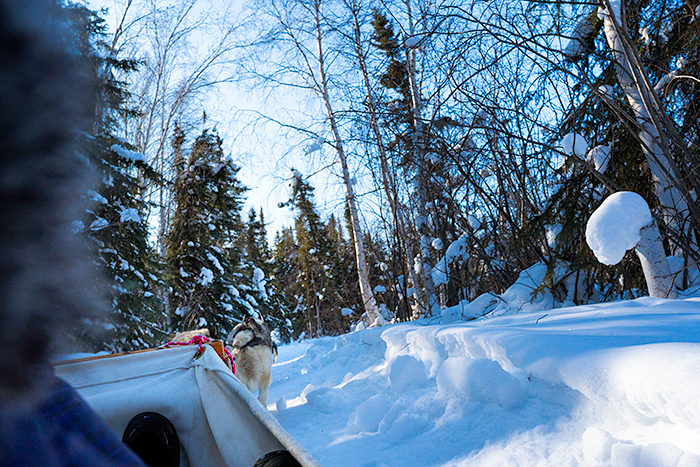 We swooshed through the forest, the movement fast but effortless. The ride was beautiful and peaceful. I loved the snowy setting and the soft padding underneath as we glided through the woods.
Driving a sled
Our second experience was with Endodah kennel located 15 minutes from town. The difference on this tour is that guests either drive or ride a sled ($125 CAN/$93 US). Or do both. We elected to do both, which meant we would switch places halfway through. I was curious how we would do that in the middle of the ride, but the operator assured me through email that our guide would handle that. The website states that the one hour tour includes 45 minutes of dog sledding. But in reality is 15-20 minutes.
The other 30 minutes was spent waiting in a small wooden cabin with a heated stove. When our number was called, we headed out in pairs. Every five minutes or so another team left on a sled. Our female guide from Taiwan showed us to the sled and pointed out the brake, while another guy handling the dogs asked for our phone to take a quick pic while we were trying to get settled.
My daughter wanted to drive the sled first. So I sat in the sled and away we went. The exicted dogs ran fast, and I felt every bump as the sled slammed against hard mounds of snow as we approached the lake.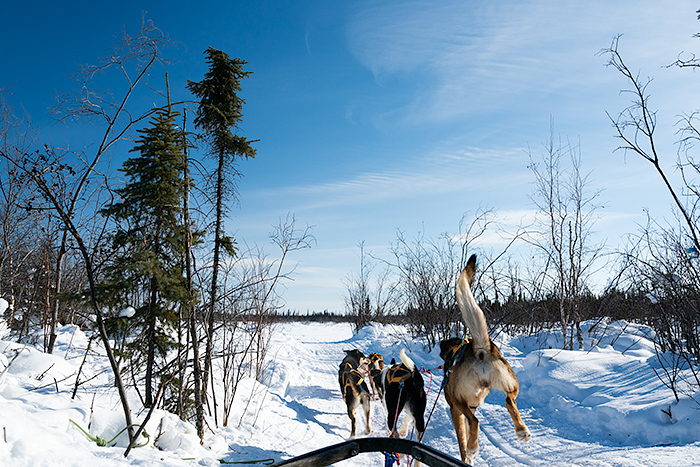 She laughed at my vocal reactions, "Owww! Owww! Owww!" They were not screams. But each 'BAM' felt more pain than pleasure.
Then the dogs ran across the windy lake.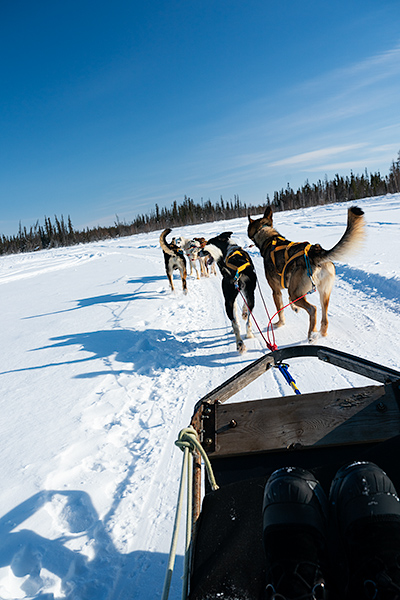 Until they didn't. For some reason they completely stopped.
Okay…now what do we do? We looked around for help.
A man who was riding a snowmobile came over, jumped off and tried to entice the leading dog into running. But clearly the dog was done. So another snowmobile showed up and switched out the dogs. The new lead dog didn't get along with another and soon they were tangled up in the lines. We watched the chaos ensue for about five minutes before the man decided to simply remove a dog from the team. He coaxed the dogs into running and away we sped across the ice.
Reaching the woods, the dogs made a quick loop through some trees before returning across the lake and over the whoop-de-dos on that bumpy shore before reaching the kennel. And then we were done.
There had been no mention of switching drivers. But I really didn't mind. I wanted Jordan to enjoy the experience of driving her first sled as I'd done it before in Sweden. And she loved it.
After our ride, we were ushed back to the cabin to wait for the others. I was surprised that there was no information provided about the dogs, no opportunity to cuddle the pups, no interaction with the dogs or photo ops as described on the website. The whole experience felt rushed. Our guide was busy enough simply corralling the crowd to and from the bus and to the sleds at the appointed time.
Kick sledding
Kick sledding is a fun activity where a dog or two pulls you across the ice on a lightweight sled that you (attempt to) control with a foot pedal. But hang on!! Those huskies love to run at full speed ahead.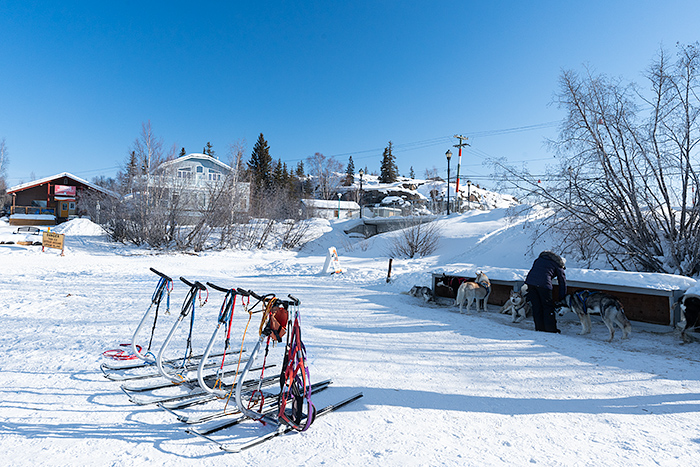 We joined a kick sledding tour with Sundog, located in Old Town. It was another frosty morning, below zero, but we were dressed for it. We spent time with the dogs while the owner set up our sleds. After a quick lesson, we followed another guide across the ice on a bay at the Great Slave Lake.
We had a blast on this tour and it was our favorite winter activity in Yellowknife!
Everyone in our small group of four fell at least once. The owner rode his snowmobile alongside our group and jumped out to assist when necessary–grabbing the dogs, and reorienting our sleds.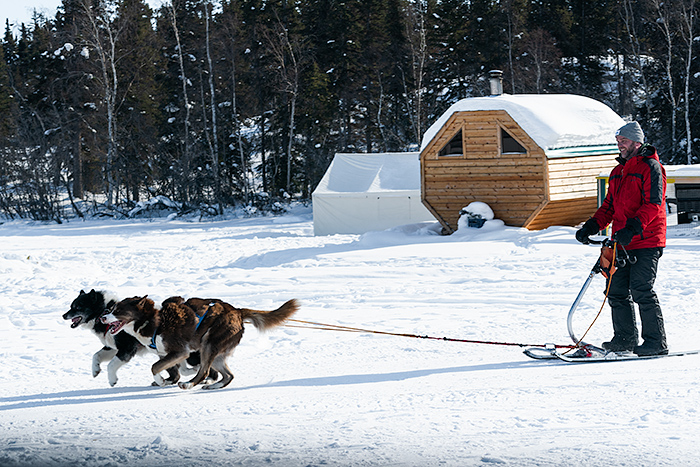 When we reached the other side of the bay, we halted our pups, got off our sleds and hiked to a frozen waterfall that locals call an ice cave. We followed our guide through the snowy forest past an old cemetery while the owner stayed with the dogs.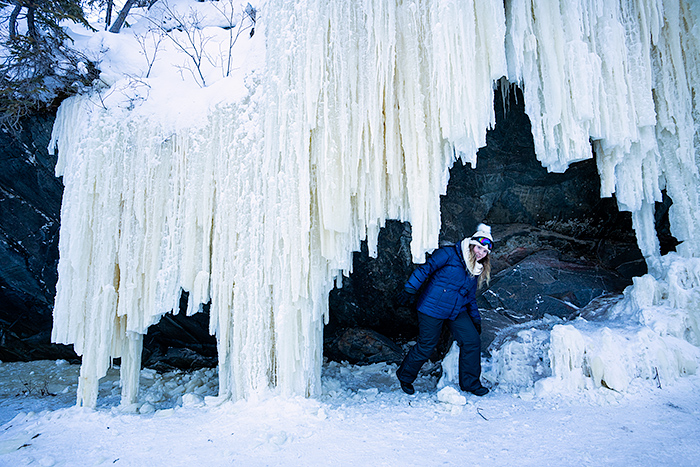 I'd read about this cave before we came and how other travelers struggled to find it. So having this little diversion included on our kick sledding tour was an added perk!
This exhilerating ride whizzed past houseboats wedged into the ice on the Great Slave Lake. I attempted to video this excursion with my GoPro 9 mounted on a chest strap, but apparently didn't lock down my settings and only captured a random photo instead. You definitely need both hands for the sled.
Ice fishing
Although we didn't do any ice fishing here, we saw inside a couple different heated huts when we took an Ice Road tour across Great Slave Lake.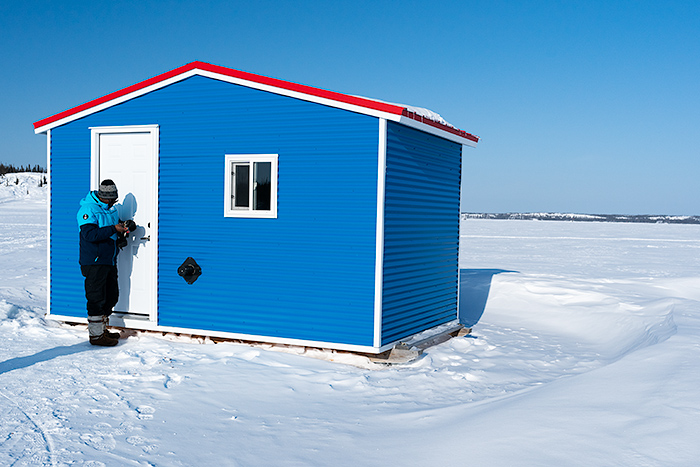 Travelers can combine ice fishing with snowmobiling on tours offered with the same company we used, Arctic Tours Canada.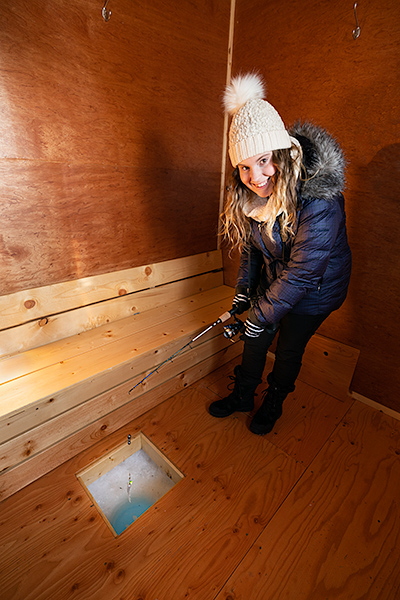 According to our guide, most people catch cod as they are 'the hungriest' fish in the lake. The heated huts have wooden benches where you can sit while dangling your fishing line through the hole drilled into the ice.
Snowmobiling
A mini snowmobile ride is included on the Aurora tour to reach the B. Dene camp on Great Slave Lake which we booked. But our tour was cancelled due to tribal meetings that week, so we didn't get this opportunity. And neither did we join any organized snowmobile tour. But travelers can choose from numerous operators in town, including Arctic Tours.
Snowshoeing
Yellowknife also offers several snowshoe tours. We chose the tour at Aurora Village as they were the only ones that used traditional wooden snowshoes once worn by the indigenous people in the Northwest Territories.
Our guides helped us get strapped into the snowshoes, and led our group through the snowy forest.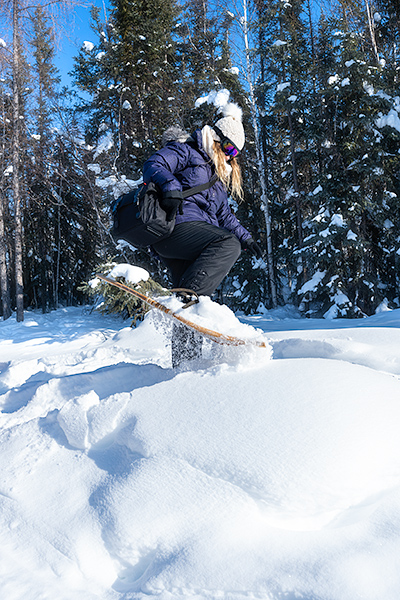 Wooden snowshoes are longer than contemporary plastic ones, which makes hiking more tiring and challenging. You had to put in more effort into separating your feet to prevent the long tails from crossing behind you as you walked. Or down you went!
Everyone, including our two guides, tripped and fell at some point. But soft landings in deep snow felt like powder. And guides were quick to lend a hand getting up.
The guides were energetic and fun, coaxing us to play and run. They also pointed out details about arctic plants along the way.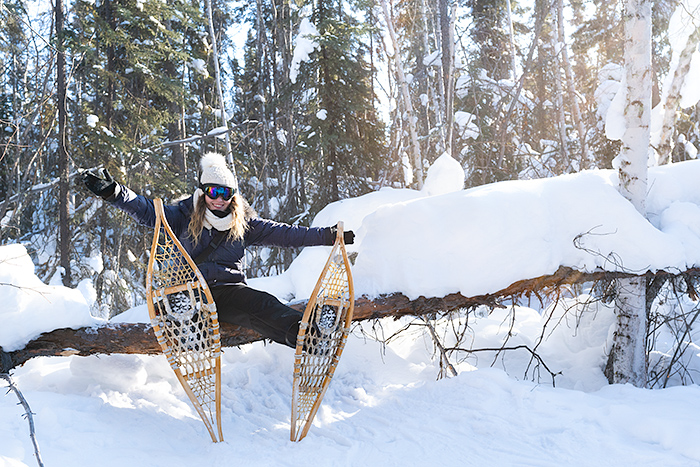 After the tour, exhausted and happy, we sat around an open fire roasting marshmallows and took turns zooming down a giant sled. We loved our time here and had a great day.
Snow King festival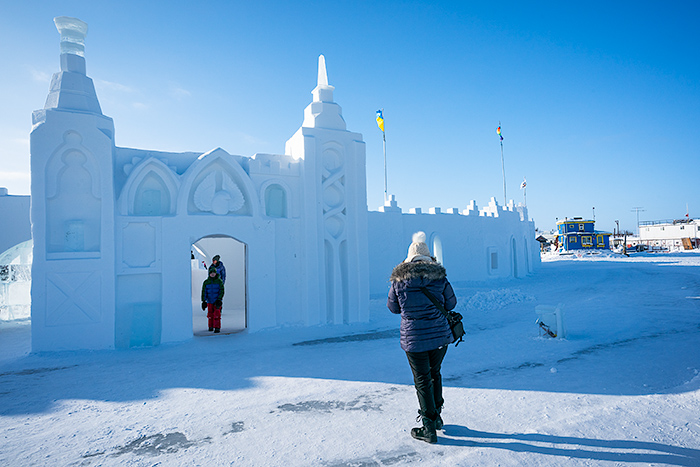 This is the only one of the winter activities in Yellowknife that is limited to the month of March. Each winter, locals build a castle out of snow, and carve ice sculptures, decorative windows, tunnels and a couple of slides.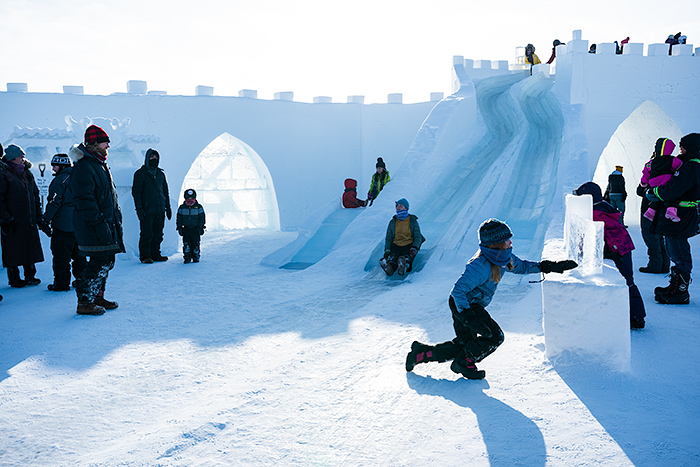 And even a lie-brary!
The Snowking Winter festival, which lasts all month, draws both adults and kids. There's contests, raffles and live music. This year, international and local teams competed in the annual snow sculpture contest March 3-5, creating works under the theme 'Myth, Story, Legend."


City Tour
A couple of operators offer city tours. Most last 2 hours. But the one we took, Tracy's City & Cultural Tour ($79 CAN), lasted 4 hours.
Tracy picked us up at 10am (we were the only guests that day) and took us all over town. Our first stop was a guided tour of the NWT Legislative Assembly Building where tribal chiefs meet, as Yellowknife is the capital of the Northwest Territories.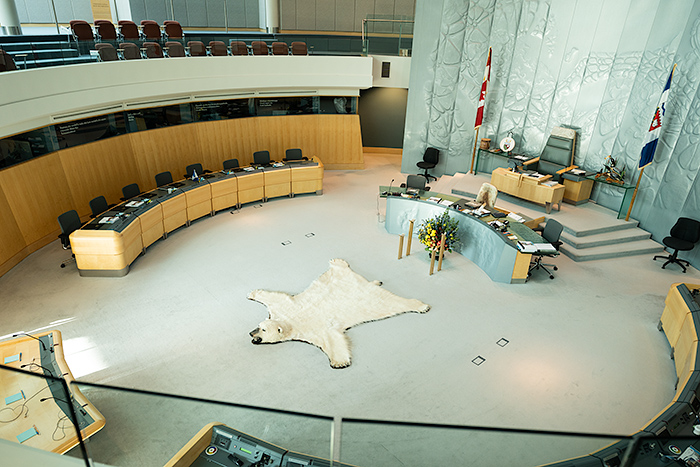 Next, we wandered around abandoned equipment at the Giant Mine, one of the former gold mines in Yellowknife. And stopped in at Buffalo Airway, home of Ice Pilots TV series.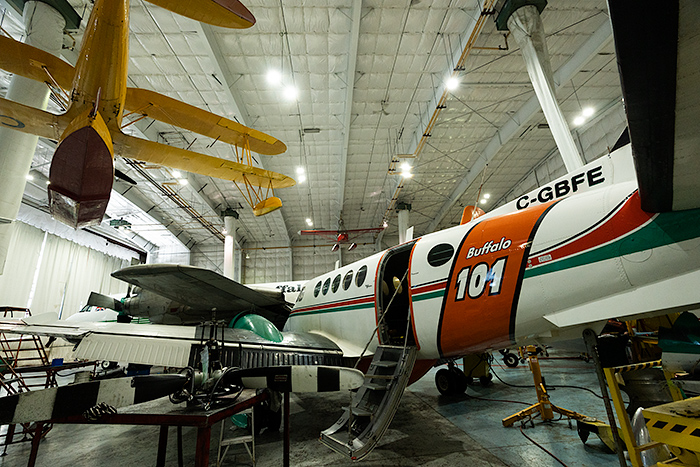 We drove past the Snow castle on the Ice Road, and met the owner of a retired Coast Guard ship. He welcomed us aboard and gave us a tour, sharing his intent to convert it to a B&B spot for aurora viewing.
Back in Old Town we drove on Ragged Ass road to reach N'dilo, another small Dene community. Then climbed steps to the Bush Pilot monument for an overview of Great Slave Lake and town. From another vantage point, Tracy pointed out features below. We could see the Bush Pilot monument atop the hill on the left, the snow castle on the lake and buildings in Old Town.
We also hiked up another hill leading to a historic plane that was nestled in the trees. The tour ended in Old Town (at our request) where we enjoyed a late lunch of fresh whitefish at Bullocks Bistro.
Aurora
I'd be remiss not to include this. Seeing the aurora is an absolute highlight!! And so likely to occur if you visit during the winter.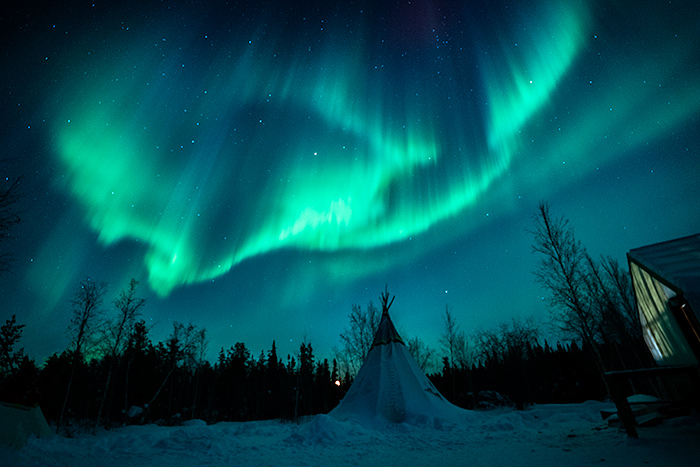 My last blog post Viewing Aurora in Yellowstone details everything you'd want to know.
Lodging base for winter activities in Yellowknife
Tour operators promoting winter activities in Yellowknife pick up guests at all major hotels. Smaller operators include transportation from B&B's or vrbo rentals too.
Two large hotels, Chateau Nova and the Explorer Hotel, cater to package tour guests. Both are located on the northeast edge of town, and conveniently have a restaurant onsite, as there is nothing else within quick walking distance. Rates are around $170 a night. Expect to pay $10-15 for taxi rides (one way) to either downtown or Old Town.
Downtown
The Quality Inn downtown is visibly older, with rates around $140 a night. Its central location has good access to dining options. Within easy walking distance is an excellent Schwarma restaurant, A&W next door, and Boston Pizza. Lots of other restaurants (serving Asian, Ethiopian, American, Italian) are open sporadically on specific days or shortened hours during winter months.
We rented a place through vrbo and stayed in an adorable house next to the Diamond Store a block away from Quality Inn.
Our spacious abode had 3 bedrooms, full kitchen, living room and bath that cost less than a hotel room! Our winter rate was just $115 a night.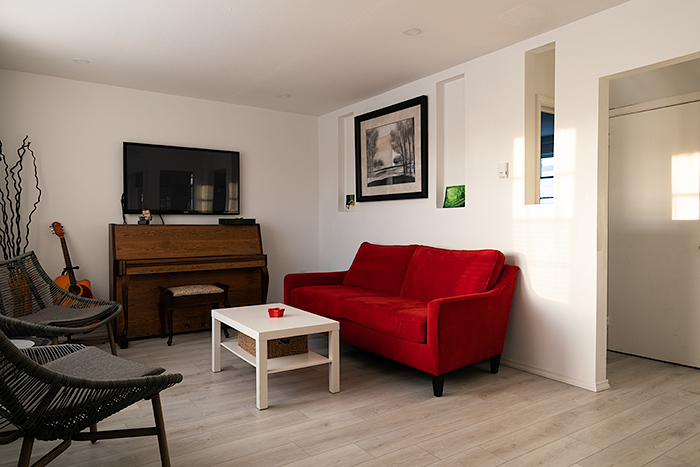 Plus we didn't have any noisy neighbors waking us up when we wanted to sleep in after staying out till 2:30am watching aurora. It was a prime location. Just a short walk to Quality Inn, a meeting spot for tour buses, restaurants and even a grocery store.
Rentals can be an excellent choice for lodging. There are a number of vrbo rentals and B&B's in both downtown and Old Town. Look carefully at the location. Many are far away from dining options and large hotels where bus tours depart from, which adds taxi costs or long walks.
Expect to pay $10 for taxis between downtown and Old Town (one way). Or be prepared to walk 30 minutes on a cold blustery day.
Old Town
B&Bs and vrbo rentals dot this area, and even include a houseboat option. But few tour operators will pick you up here–important to know if you're not renting a car and want to sample a variety of winter activities in Yellowknife.
But this is a interesting place to explore for a hour or two. Located along the shore of the Great Slave Lake, this northern end of town has a bohemian vibe. Quirky cottages, outdoor art, the Wild Cat Cafe and Ragged Ass Road share crowded space on this peninsula that juts out on the lake. Want fresh fish (yes!) then head to the popular wharfside Bullocks Bistro or Fishy People.
There's a studio where you can make etched glass souvenirs, an art gallery, and Yellowknife's oldest trading store, Weaver & Devore. If you lose a glove (like I did on my first day), need new boots, fleece, handwarmers or anything else you'll certainly find it on the cardboard shelves upstairs.
You can also walk to the Snow Castle from here, as it sits on the frozen lake a short distance from shore. If you want an overview of Old Town and Great Slave Lake, climb the steps to the Bush Pilot's monument which memorializes the pilots who died flying between the tiny remote communities in the Northwest Territories.
Getting Here
I highly recommend flying with Canadian North if you want to feel pampered for pennies. Okay, not pennies. But tell me what other airline sells economy seats, hands out warm towels, plays tv shows/movies on the backside of seats the minute you take off, serves breakfast, then a bit later, specialty coffees (Baileys + whip cream) and then a bit later, hot chocolate chip cookies?! Each perk was a happy unexpected surprise.
Canadian North flies direct from Edmonton or Calgary to Yellowknife. Our 8am flight from Calgary to Yellowknife took 2 hours.
In Calgary, we loved our stay at the Applause Hotel, a modern glass inn with beautiful contemporary decor. Conveniently located near the airport, it included a free 24 hour shuttle, and was a 20 minute Uber ride to downtown. Ate 3 times at their great onsite restaurant, TONIC, and enjoyed their rooftop jacuzzi, soaking in steam surrounded by snow. Staff was extremely helpful & friendly, and the lobby had large monitors showing curent flight information mirroring the airport screens. The hotel also included a free welcome drink, breakfast, early and late check outs. Highly recommend!
~~~~~~~~~~~~~~~~~~~~~~~~~~~~~~~~~~~~~~~~~~~~~~~~~~~~~~~~~~~~
Pin a pic to your Pinterest board for later…